I thought I would share a new found recipe that Jason and I fell in love with last week and so I quickly added it to my recipe box!
I mean really, who doesn't love a warm and cozy soup when its cold and icy outside?
If you're a working girl like me, it might be best to make this on a weekend, since it takes around 1 1/2 hours to make. I made it on a weeknight and had dinner around 8pm, which I didn't mind since I wasn't super hungry and it made for some yummy lunches during the work week. This recipe is slightly modified from the original one I found on Allrecipes.com. It's perfect served with warmed garlic bread.
Italian Sausage Soup with Tortellini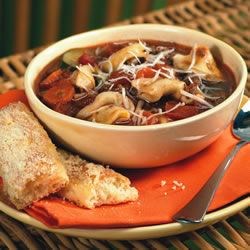 1 lb. Italian Sausage, casings removed
1 small onion, chopped
2 cloves garlic, minced
5 cups beef broth
1/2 cup water
1/2 cup red wine
1 lrg. can (28 oz) crushed & peeled tomatoes (with juices)
1 lrg. can (28 oz) diced tomatoes (drained)
1 sm. can (8 oz) tomato sauce (I use Hunts)
1 cup chopped baby carrots
1 1/2 cups sliced zucchini
1/2 Tb. Basil
1/2 tsp. Oregano
3 Tb. parsley
20 oz. fresh tortellini pasta
Directions:
In large stock pot or dutch oven, brown sausage. Add onions and garlic to pot sauteing till tender. Stir in beef broth, water, wine, tomatoes, carrots, basil, oregano and tomato sauce. Bring to a boil. Reduce heat; simmer uncovered for 30 minutes. Skim fat from the top of the soup. Stir in zucchini and parsley. Simmer covered for 30 minutes. If tortellini is uncooked, in separate pot of boiling water, cook tortellini per package's directions. Add tortellini during the last 10 minutes before serving. Serve hot in individual bowls and finish by sprinkling with Parmesan cheese.